Treatment with Myo-Inositol and Selenium Ensures Euthyroidism in Patients with Autoimmune Thyroiditis.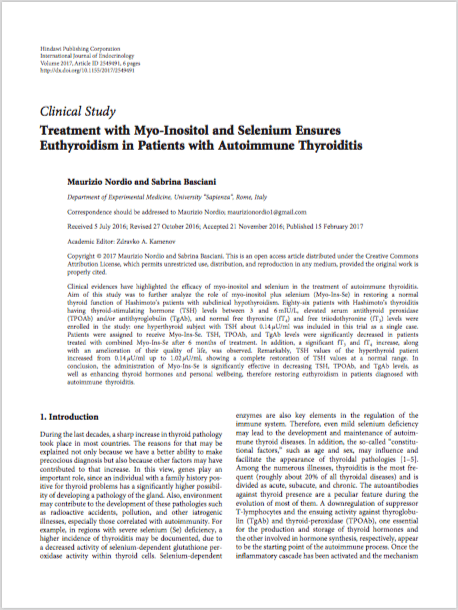 Int J Endocrinol. 2017;2017:2549491. doi: 10.1155/2017/2549491. Epub 2017 Feb 15.
Abstract
Clinical evidences have highlighted the efficacy of myo-inositol and selenium in the treatment of autoimmune thyroiditis. Aim of this study was to further analyze the role of myo-inositol plus selenium (Myo-Ins-Se) in restoring a normal thyroid function of Hashimoto's patients with subclinical hypothyroidism. Eighty-six patients with Hashimoto's thyroiditis having thyroid-stimulating hormone (TSH) levels between 3 and 6 mIU/L, elevated serum antithyroid peroxidase (TPOAb) and/or antithyroglobulin (TgAb), and normal free thyroxine (fT4) and free triiodothyronine (fT3) levels were enrolled in the study: one hyperthyroid subject with TSH about 0.14 μU/ml was included in this trial as a single case. Patients were assigned to receive Myo-Ins-Se. TSH, TPOAb, and TgAb levels were significantly decreased in patients treated with combined Myo-Ins-Se after 6 months of treatment. In addition, a significant fT3 and fT4 increase, along with an amelioration of their quality of life, was observed. Remarkably, TSH values of the hyperthyroid patient increased from 0.14 μU/ml up to 1.02 μU/ml, showing a complete restoration of TSH values at a normal range. In conclusion, the administration of Myo-Ins-Se is significantly effective in decreasing TSH, TPOAb, and TgAb levels, as well as enhancing thyroid hormones and personal wellbeing, therefore restoring euthyroidism in patients diagnosed with autoimmune thyroiditis.
Abstract Source: https://www.ncbi.nlm.nih.gov/pubmed/28293260
Treatment with Myo-Inositol and Selenium Ensures Euthyroidism in Patients with Autoimmune Thyroiditis.
Nordio M, Basciani S.
Int J Endocrinol. 2017;2017:2549491. doi: 10.1155/2017/2549491. Epub 2017 Feb 15.
PMID: 28293260