A Promise in the Treatment of Endometriosis: An Observational Cohort Study on Ovarian Endometrioma Reduction by N-Acetylcysteine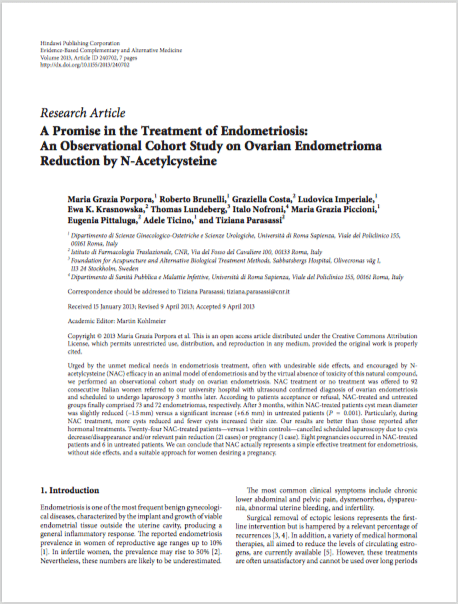 Evid Based Complement Alternat Med. 2013;2013:240702.
Porpora MG, Brunelli R, Costa G, Imperiale L, Krasnowska EK, Lundeberg T, Nofroni I, Piccioni MG, Pittaluga E, Ticino A, Parasassi T.
Abstract
Urged by the unmet medical needs in endometriosis treatment, often with undesirable side effects, and encouraged by N-acetylcysteine (NAC) efficacy in an animal model of endometriosis and by the virtual absence of toxicity of this natural compound, we performed an observational cohort study on ovarian endometriosis. NAC treatment or no treatment was offered to 92 consecutive Italian women referred to our university hospital with ultrasound confirmed diagnosis of ovarian endometriosis and scheduled to undergo laparoscopy 3 months later. According to patients acceptance or refusal, NAC-treated and untreated groups finally comprised 73 and 72 endometriomas, respectively. After 3 months, within NAC-treated patients cyst mean diameter was slightly reduced (−1.5 mm) versus a significant increase (+6.6 mm) in untreated patients (P = 0.001). Particularly, during NAC treatment, more cysts reduced and fewer cysts increased their size. Our results are better than those reported after hormonal treatments. Twenty-four NAC-treated patients—versus 1 within controls—cancelled scheduled laparoscopy due to cysts decrease/disappearance and/or relevant pain reduction (21 cases) or pregnancy (1 case). Eight pregnancies occurred in NAC-treated patients and 6 in untreated patients. We can conclude that NAC actually represents a simple effective treatment for endometriosis, without side effects, and a suitable approach for women desiring a pregnancy.
Abstract Source: https://www.ncbi.nlm.nih.gov/pubmed/23737821
A promise in the treatment of endometriosis: an observational cohort study on ovarian endometrioma reduction by N-acetylcysteine.
Porpora MG, Brunelli R, Costa G, Imperiale L, Krasnowska EK, Lundeberg T, Nofroni I, Piccioni MG, Pittaluga E, Ticino A, Parasassi T.
Evid Based Complement Alternat Med. 2013;2013:240702. doi: 10.1155/2013/240702. Epub 2013 May 7.
PMID: 23737821